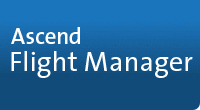 Problems logging in?

Contact our
Customer Support Center
Phone +1-713-430-7200
E-mail:
AscendFlightOps@
rockwellcollins.com»



---

Not a Flight Manager Member?

Flight Manager offers customers a comprehensive suite of flight planning tools that support each and every trip, including invoices, Trip Status and other key membership benefits 24/7. To learn more contact your
Regional Account Manager».

Now Rockwell Collins datalink subscribers can track the status of their aircraft using our new flight tracking tool. The dynamic page allows users to overlay satellite and U.S. radar data to see where an aircraft is in relation to adverse weather. Click on the aircraft icon to send data link messages instantly to flight crews. View upcoming and recently completed flights.

Give your flight department the situational awareness they need.

To learn more about our Ascend datalink subscription offerings, contact AscendSales@rockwellcollins.com.